/!\ WARNING /!\
pkg_install EOL is scheduled for 2014-09-01. Please consider migrating to pkgng
http://blogs.freebsdish.org/portmgr/2014/02/03/time-to-bid-farewell-to-the-old-pkg_-tools/
If you do not want to see this message again set NO_WARNING_PKG_INSTALL_EOL=yes in your make.conf
Der Support für PKG_ läuft am 01.09.2014 aus.
Der Security Support für FreeBSD 9.2 am September 30, 2014.
Beschäftigen wir uns bis dahin etwas mit PKGNG: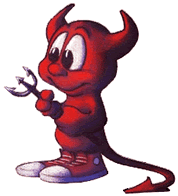 PKGNG Installation
Punkt 1: PKGNG Installation unter AMD64
$
pkg bootstrap
$
Punkt 1.1: PKGNG Installation unter SPARC64
$
cd /usr/ports/ports-mgmt/pkg/ && make install clean
$
Punkt 2: Ports Packages mit default PKGNG erstellen lassen
$
echo 'WITH_PKGNG=yes' >> /etc/make.conf
$
Punkt 3: Packages Datenbank aktualisieren
$
pkg2ng
$
Punkt 4: installierte Packages auflisten lassen
$
pkg info
$
PKGNG ermöglicht ein schnellen Überblick über installierte Packages mit Vulnerabilities …
$
pkg audit -F
$
Hinweis: bei pkg: PACKAGESITE in pkg.conf is deprecated. Please create a repository configuration file
$
mv /usr/local/etc/pkg.conf /usr/local/etc/pkg.conf_
$
That's FreeBSD.